Waters Edge Pizzeria
Our Waters Edge Pizzeria is cooking up some delicious dishes to satisfy the hungriest of appetites. You will love our full menu with a variety of appetizers, fresh salads, specialty pizzas, and more! Serving our renowned New York Style Pizza!!
208-865-2476
Restaurant Open Thursday – Sunday 8 am to 8 pm for Breakfast, Lunch, and Dinner (Pizza available 5 – 8 pm)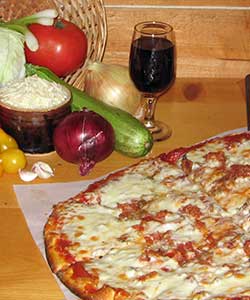 Family owned and operated Waters Edge Pizzeria is a fun and friendly pizza restaurant serving the BEST hand-tossed, lightly crisp thin crust, New York Style Pizza in Lemhi County! Located in North Fork, Idaho where our much appreciated local community and tourists come to experience delicious pizza and relaxed dining in our clean, rustic decor restaurant or on the deck overlooking the North Fork of the Salmon River.
We cater small and large events for all your group functions May through November. Plan ahead, we can host your party, special event or wedding rehearsal dinner at Waters Edge Pizzeria!
Come for the delicious food – stay for the warm hospitality!